beauty gun or what is known as Beauty Jan It is the latest science in face-lifting and hiding wrinkles without surgery and without pain, just as it works to add a subtle freshness to the skin.
Beauty Gun-Coolifting
It is used by flowing under high pressure of CO2 gas at very low temperatures by cooling, which increases blood circulation, stimulates collagen and delivers all the vital elements needed by skin cells, which helps to tighten the skin and hide superficial wrinkles of the skin and add super freshness to the face.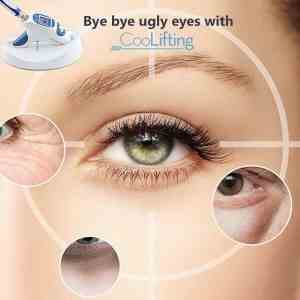 Beauty Gun and the advantage of carbon dioxide injection without a needle:
Significant impact , Preliminary results can be seen from the first session, as it stimulates collagen production.
The injection of materials by cooling CO2 gas through the needle-free Beauty Jean can activate the hyaluronic substance in the depths of the skin, The effect is long lasting, Which enables the skin to be smooth and shiny for a long time.
Effectively removes wrinkles of the face, neck, hands and fine lines.
Non-manual injection makes it more sanitary and safer.
The function of the beauty jan (beauty gun):
The CO2 beauty gun treatment produces a double effect:
1, Immediate effect (lift): skin smoothing, and enhance luster, re-balancing skin tone, Eliminate superficial wrinkles and reduce deep wrinkles.
2, Lasting effect (regeneration): collagen stimulation, flexibility, dermis regeneration, Improving the texture of the skin, which adds luster to the skin and makes it supple.
What are the effects of the beauty gun (Beauty Gun) on the face?
Collagen stimulation – the high pressure applied to the skin by a beauty gun causes deep penetration of the anti-aging hyaluronic product that is contained within a capsule within the application.
The thermal shock caused by the CO2 gas and the cooling stimulates the skin tissues, which restores its elasticity and gives it a beautiful appearance.
Lasting Effects – Beauty Gun treatment results in improved skin texture and quality and intense collagen stimulation.
Treatment method:
Easy, effective, non-invasive and fast treatment.
– 5 minutes opens a new future for facial rejuvenation.
The balance between a large concentration of anti-aging active ingredients and their effective activation allows the skin to penetrate like never before.