Ionic tightening of the skin.. If you want the chance of a life younger than 20 years without surgery, this procedure is suitable for you personally..
It is a new revolution and a unique alternative to traditional skin tightening procedures.
Ionic skin tightening is an advanced RF energy device that combines cold helium plasma and energy to reduce face and neck wrinkles, tighten the abdomen and sculpt the body without surgical intervention.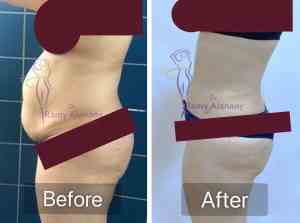 What is النحت الايوني ?
It is the use of cold ionic energy under the skin to rejuvenate anywhere on the face and body.
And it helps to lift, tighten and rejuvenate the skin, which gives you natural results because the ionic energy that is applied under the skin creates an immediate contraction of the skin, which leads to the improvement of laxity, tightness and contraction and removes the damage that has accumulated on your skin over the years.
Treatment of sagging skin without surgery..
A new breakthrough in the science of aesthetic medicine..
What is the difference between النحت الايوني and other cosmetic surgeries?
النحت الايوني skin is a non-surgical procedure, meaning that it avoids complications associated with surgery such as infection and bleeding, in addition to that it does not leave any surgical traces, and it also combines skin tightening with fat sculpting at the same time without surgery.
Individuals with slight or moderate degree of sagging will see greater improvement.
What are the advantages of النحت الايوني energy in tightening and sculpting the body?
Ionic skin tightening is characterized by a reduced risk of peripheral tissue injury due to: The possibility of controlling the flow of ionic energy as well as the depth of thermal diffusion and its effectiveness on many types of tissues.
Cold ion energy is cooler than using laser energy and is safer with less risk of tissue damage while giving the patient a rapid improvement.
The cold ionic energy is unparalleled as there is no current technology capable of tightening the skin to this level.
What is the benefit النحت الايوني for the skin of the face?
It instantly tightens the skin and improves the elasticity of the skin
It reduces lines, wrinkles, age spots, sun damage, stress and insomnia, and represents a challenge in rejuvenating the face.
What is the appropriate person for the ionic tightening of the skin?
This procedure is suitable for men and women of all skin types and all age groups between 19-80 years and suffering from sagging in the face, neck or body.
Here we find Dr. رامي العناني explains to the star Dalia Mostafa the latest breakthroughs in medicine to tighten sagging without surgery, which is the ionic skin tightening technique:
To find out the difference of a tummy tuck from an ionic tightening of the skin: You can press tummy tuck [:]